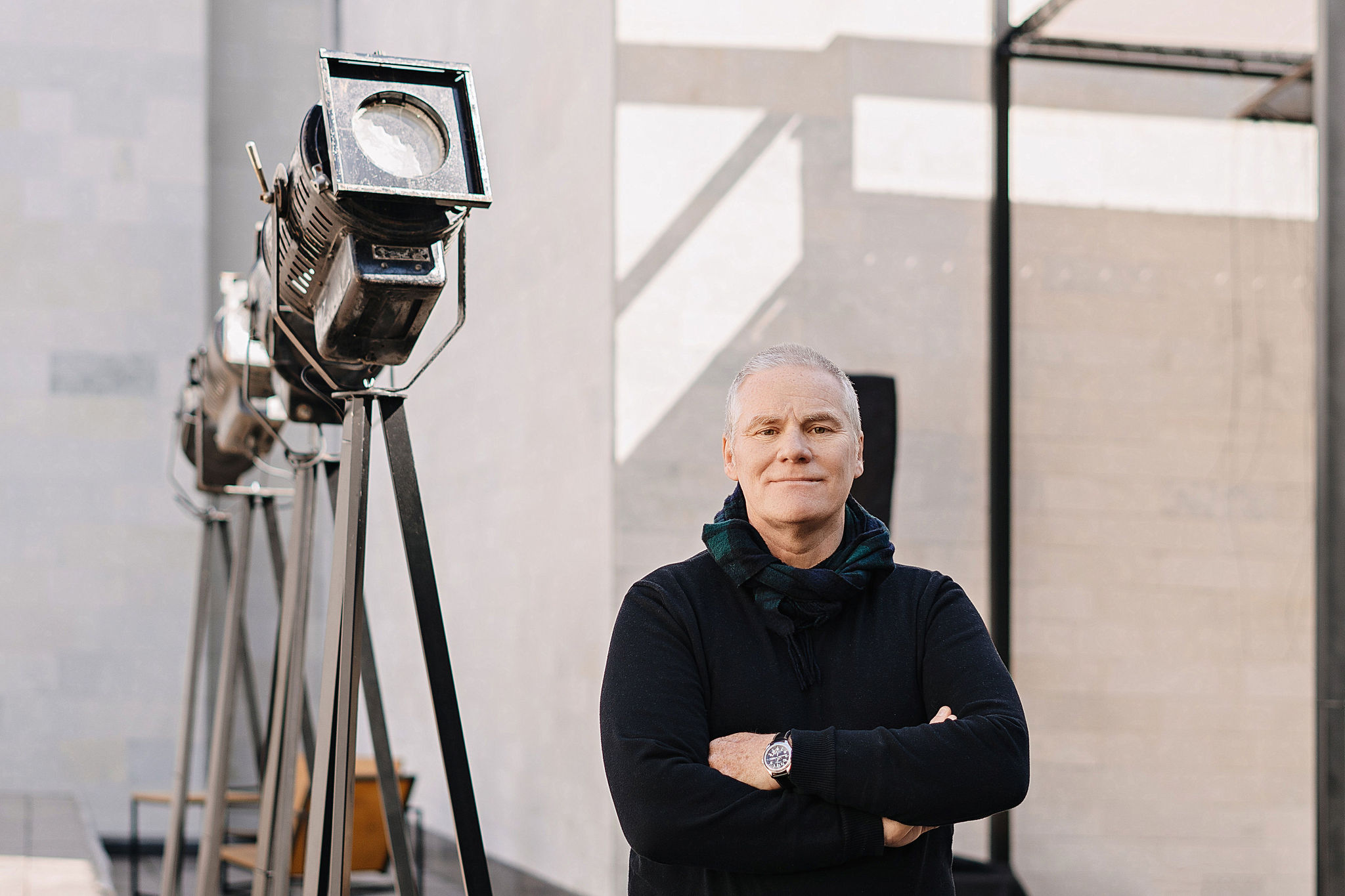 Chris Baldwin is a director, writer, curator… But he is so much more than these definitions. For many years now he has worked across the continent and has added to the success of a handful of European Capitals of Culture. This experience, together with his natural openness to the world and its cultures, make Chris a true European.  No wonder the artist was invited to co-create the unique symphony "Šaipėrantas" (composed by Antanas Jasenka, conducted by Modestas Pitrėnas) for the grand opening of Kaunas 2022 on January 22 at 7:30 pm. The director got to know Kaunas intimately during this process – he also agreed to tell us more about his understanding of Europe and Europeanness. 
Below is an interview with director Chris Baldwin.
– Being British, how did you start working in countries that are considered post-soviet or post-authoritarian? Was it an adventurous decision?
– Ahh. Being British! I don't really know what that means. I was born in Oxford in the early 1960's. I was the younger one of post-war siblings. So we grew up with quite a strong sense of what being British was supposed to mean. We had, after all, with the Americans helping out, won the war against Germany. So being British was about fairness, democracy and standing up against the bullies. It was only as I grew up, and had some great teachers, and watched some fantastic BBC, that I began to realise that all this was a rather comforting myth, and that reality and history was rather more complicated. The problem with believing such myths is that it leaves you open, it leaves people open, to being vulnerable to the next myth which comes along. In these times of Brexit, the Britain I knew has been re-configured beyond recognition to me at least.
And then you also use the words 'post-authoritarian'. A 'post-authoritarian' country is an interesting term – and I have used it in my own writing. It suggests that authoritarianism is something that has been left in the past. But recent events in various countries suggest that this is a phrase we need to re-think. I started working in post-soviet and eastern 'post-authoritarian' European countries in early 1990. The Berlin Wall had just fallen, and I was teaching and performing at the University of Ingolstadt (then part of West Germany). The British Council invited me to travel around the then East Germany and contact some of their state theatres. I did. I met lots of fantastic people and ended up working there for a couple of decades. From the mid 1980's I worked a lot in Spanish theatres but also with secondary and primary teachers of various subjects including History. I was interested in how schools could make their work with children more creative, less authoritarian! I discovered that classrooms and curricula had a lot in common with rehearsal rooms and scripts. And both often reflected the political and power mechanisms at play in the wider society. For example, in the 1960's and 70's if a child spoke Basque in a Spanish school they could, and did, get a beating from a teacher. But the same was happening in the wider society too. Where countries had recent experience or memory of authoritarian political leadership or culture one could expect to find similar authoritarian attitudes to problem solving, decision making, discipline in schools, hospitals, theatres, kindergardens, in curricula and in theatre texts!
I directed a play by Charlotte Keatley called, 'My Mother Said I Never Should' in Warsaw in 1995. And my theory seemed confirmed. There was a real expectation that the director would be a mini-dictator (actually, not that mini!). But that same expectation, from managers and actors alike, was not dissimilar in Spain or eastern Germany. I found that fascinating and terrifying! Someone once said to me, "Franco will not be dead until the last teacher trained under Francoism has retired from the classroom". And I thought, "well, that could be the year 2010!" That might be unfair as many teachers in Spain were deeply resistant to Franco's ideology. But it does raise important questions about historical legacy and how values are transmitted through education and culture through generations.
Since the late 1980's I have lived and worked in a number of European countries. Spain, Poland, Germany, Ireland and Bulgaria, where I now live. I am European. For me Europe has made my life, and the life of my children, immensely richer. Not because we are wealthier because of the EU but because of the freedom of travel, work and study that has been a direct legacy of 1989. That freedom has been given up by the UK as a direct result of Brexit. I don't understand how British children, no longer being able to work or study freely in 27 countries, are somehow 'taking back freedom'. It seems someone has swallowed quite a terrifying and dangerous myth.  But it is a potent one. Historical myths can lead us to surrender our own freedoms!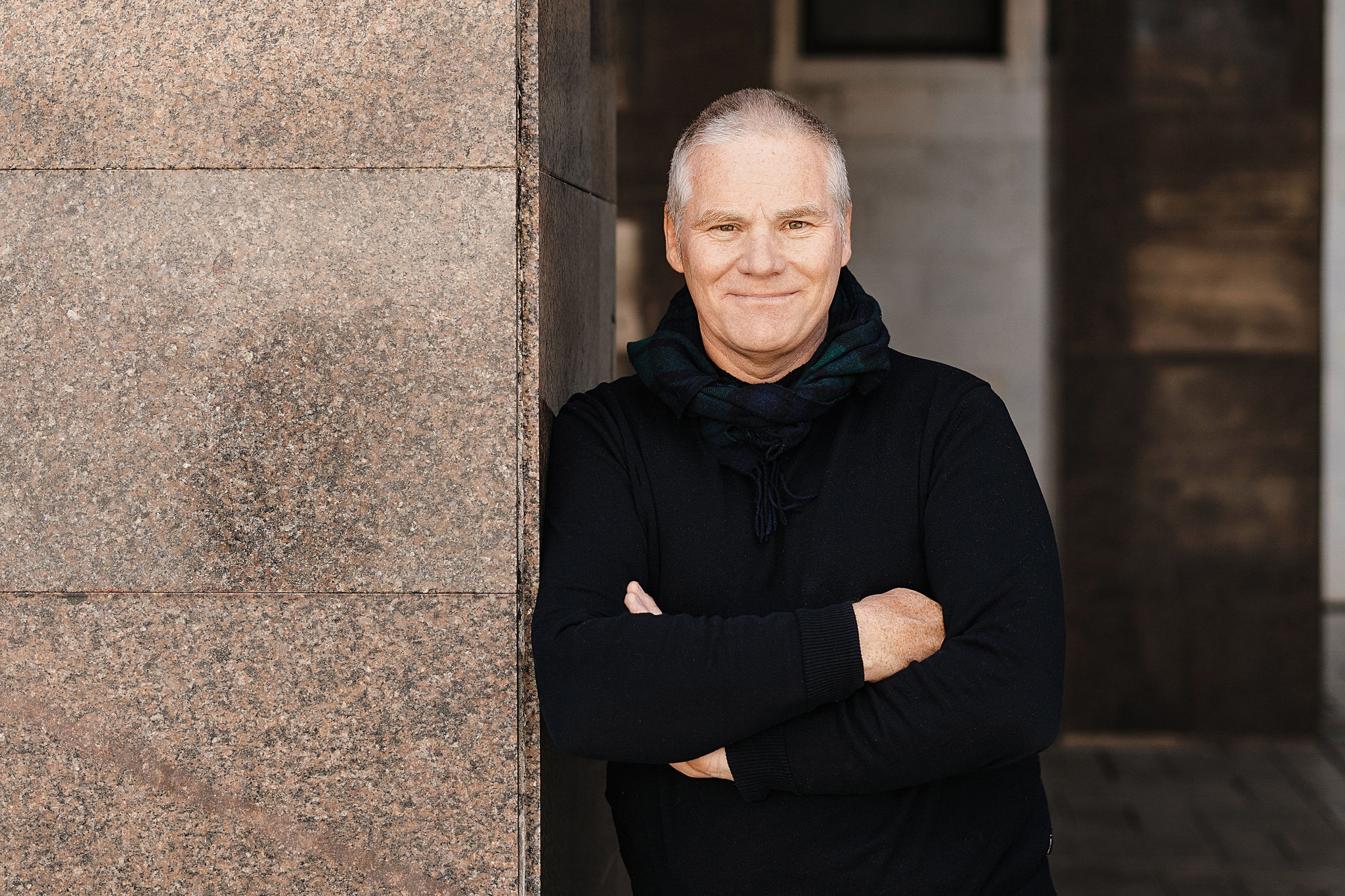 – What are the main (artistic – and not only) challenges while directing events as extensive as opening ceremonies for Olympic games or ECoC? Does the size (budget, too) of creations and ideas liberate you or, on the contrary, put you under an obligation?
– Finding the story! Creating a useful and fascinating and helpful myth! Yes! Not all myths are unhelpful. It's a huge task, a responsibility to be taken seriously, to find the story which interests a wide public, but at the same time does not reinforce stereotypes but creates freedom for us to think and feel about what 'being together' means. And that is what drew me to Kaunas in the first place. The team were clear and energised about their aims for Kaunas 2022 – and the fact that a special myth, the Myth of the Kaunas Beast, was to inform our work. Once a story, and a reason for that story, was clear then the big production and artistic decisions, budgetary implications, are so much easier.
We have lived through and continue to be impacted by Covid19. That remains a huge challenge for directing and preparing big events. Involving multiple voices in the building of a story takes lots of rehearsals, lots of listening and conversations. Rehearsals are also predicated on many people and teams coming together to work out solutions and creative proposals. And the events themselves should be carnival-like, for people to have a great time in large groups, sharing liminal moments together. Covid19 has made all three of these things, building story, rehearsals and event design, totally different for the last two years. But not necessarily for the worse! We have had a fantastic year building shows and events. Preparations have depended, more than usual, on technology and the internet. But maybe we have travelled less. Good for our skies! And when we are together it feels so special, so important. It is no surprise to any of us that during the pandemic people turned to culture across the world. Streaming services online and book sales have exploded! We, humans, are all story-telling creatures. That cannot be removed by a pandemic. Rather it is made more necessary. The question remains: Who gets to tell the stories? Are they going to help us understand the nature of the challenges we face? Or do the stories we encounter lead us towards new authoritarian myths and tales which prepare us for a new authoritarian future?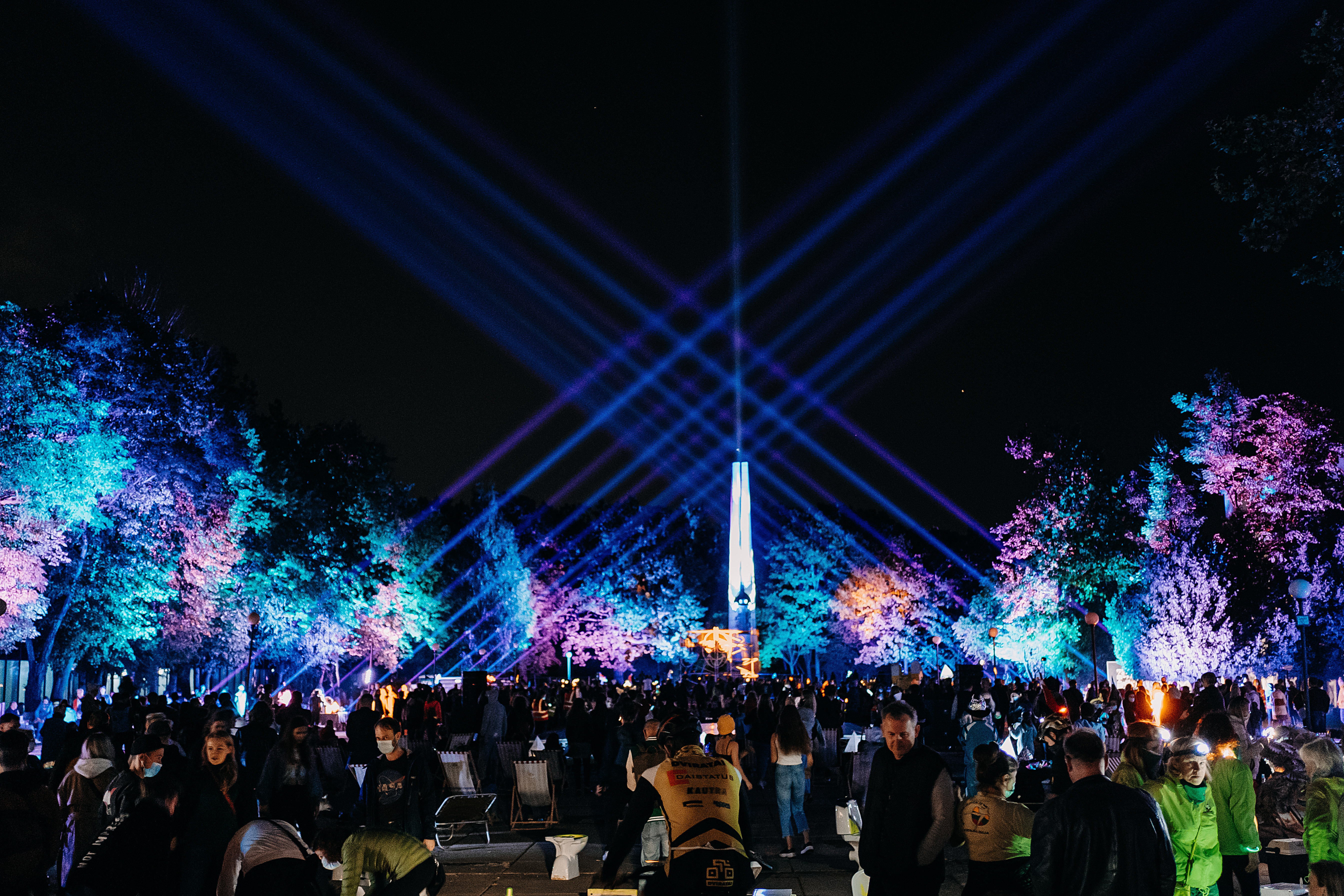 – Could you briefly compare the core ideas – or as you see them – of ECoC Wroclaw, Galway and Kaunas? Can you spot a singular vector for the project of ECoC in general, which is almost 40 years old already? I mean, do European Capitals of Culture have the same role they did in the 1980s or 1990s?
– A place, a city, Kaunas, Galway, Wroclaw are rooted, fixed and identifiable by their geographical locations. The river Corrib is among the shorted river in Europe, and as a result, one of the fastest flowing and most dangerous. The landscapes of western Ireland, Connemara, are harsh and unforgiving yet the purples in the sky and soil leave you staring in disbelief. There is also the legacy of colonialism everywhere. Have these two things impacted Galway's sense of identity? Intensely. Yet Galway has radically changed demographically in recent decades. And Galway's ECoC was about the way the past informs the now but also how globalised trade and communications are impacting every aspect of contemporary life. Seas, weather, languages, religions, architecture, design of urban spaces, invasions, colonial legacies all differ from country to country, city to city – yet they are all to be contended with as they are what we all share as Europeans. Wroclaw is also defined by a river, the Odra. It is also defined by legacies of war, language and population removals and arrivals. And Kaunas is defined geographically perhaps by the two great rivers, Nemunas and Neris, with their confluence creating such a magical and defining space.  Is Kaunas built in this spot out of coincidence or because of this confluence? That, for me, is what European identity is about – the way we manage the legacy of multiple languages, borders, competing historical myths. As Timothy Snyder, the US historian said last year, "Europe, you are greater than your myths!". What fascinates me about contemporary ECoC's, those of the last 10 to 15 years, is that they seem to conclude that diversity in audiences, in communities and artists, multi-linguicism have been, and will remain, ever-present features of European life. Lithuania, Ireland, Poland, Slovenia, Bulgaria, Spain; all EU nations struggling with 20th Century legacies, looking to develop coexistence that helps us manage and thrive in a world where non-border issues now dominate all our lives. We might be from different countries but neither Covid19 nor the climate emergency respects borders, different religions, or languages.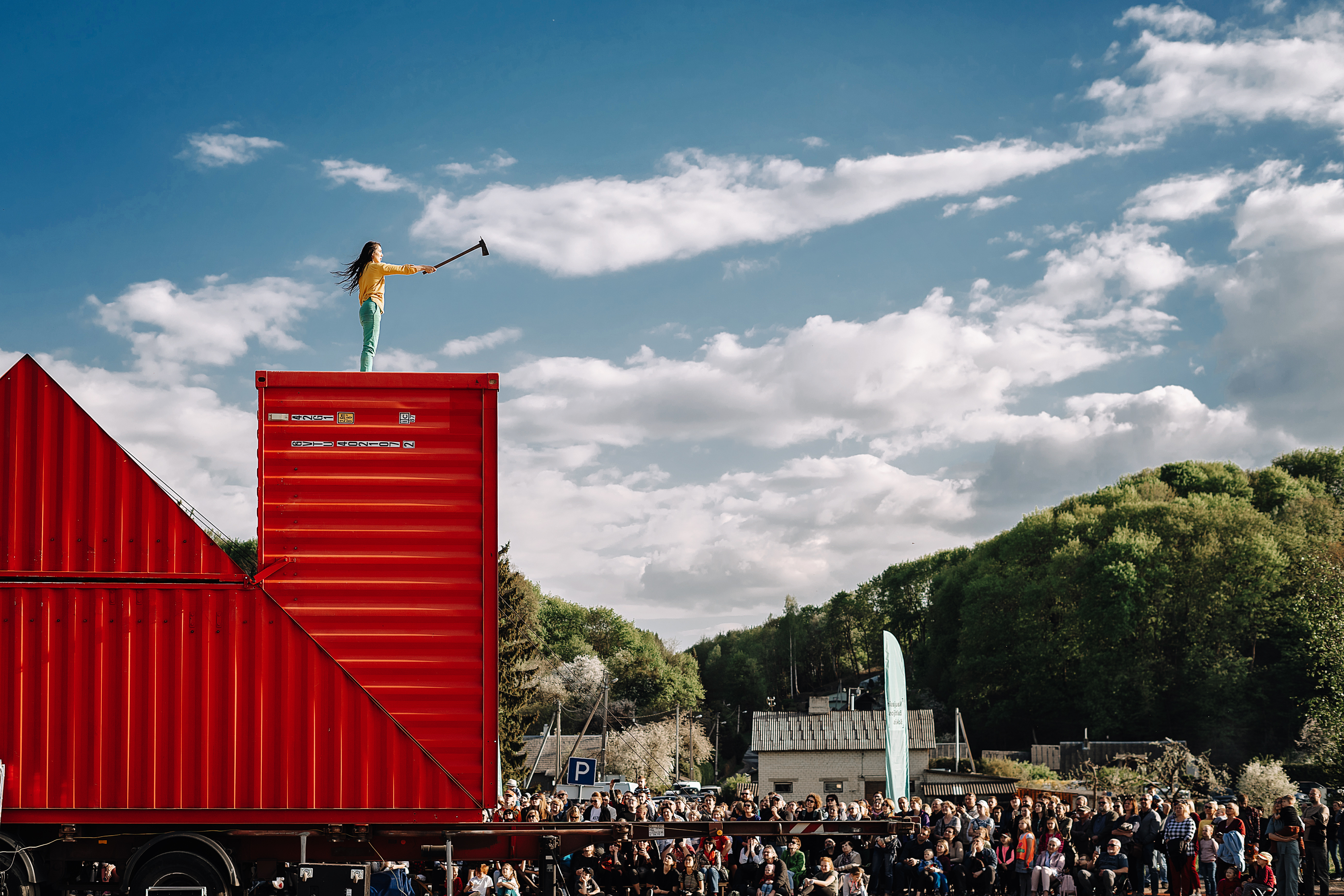 – Are you, as a professional, learning something new while working with Lithuanian artists and communities for the Kaunas 2022 project?
– Kaunas is a keen and great teacher. And I am learning about human struggle, hope and joy from this perspective. On one of my trips to Kaunas, I was picked up by a young taxi driver who, in perfect English, told me about his years in Cork in Ireland. He went on to tell me the story of his family during the late Soviet period and how members of his family had been forced to fight in Afghanistan. He was a very bright and thoughtful young man who had a thousand stories that defined his European-ness. And then there are the extraordinary artists of all generations who are as comfortable working across borders and languages online as they are in referencing early 20th-century Lithuanian poets, painters, and architects. I have learnt about Lithuanian cultural trends, their interconnectedness with history and politics, neighbours, and neighbourhoods. And every day Lithuania and its artists teach me more.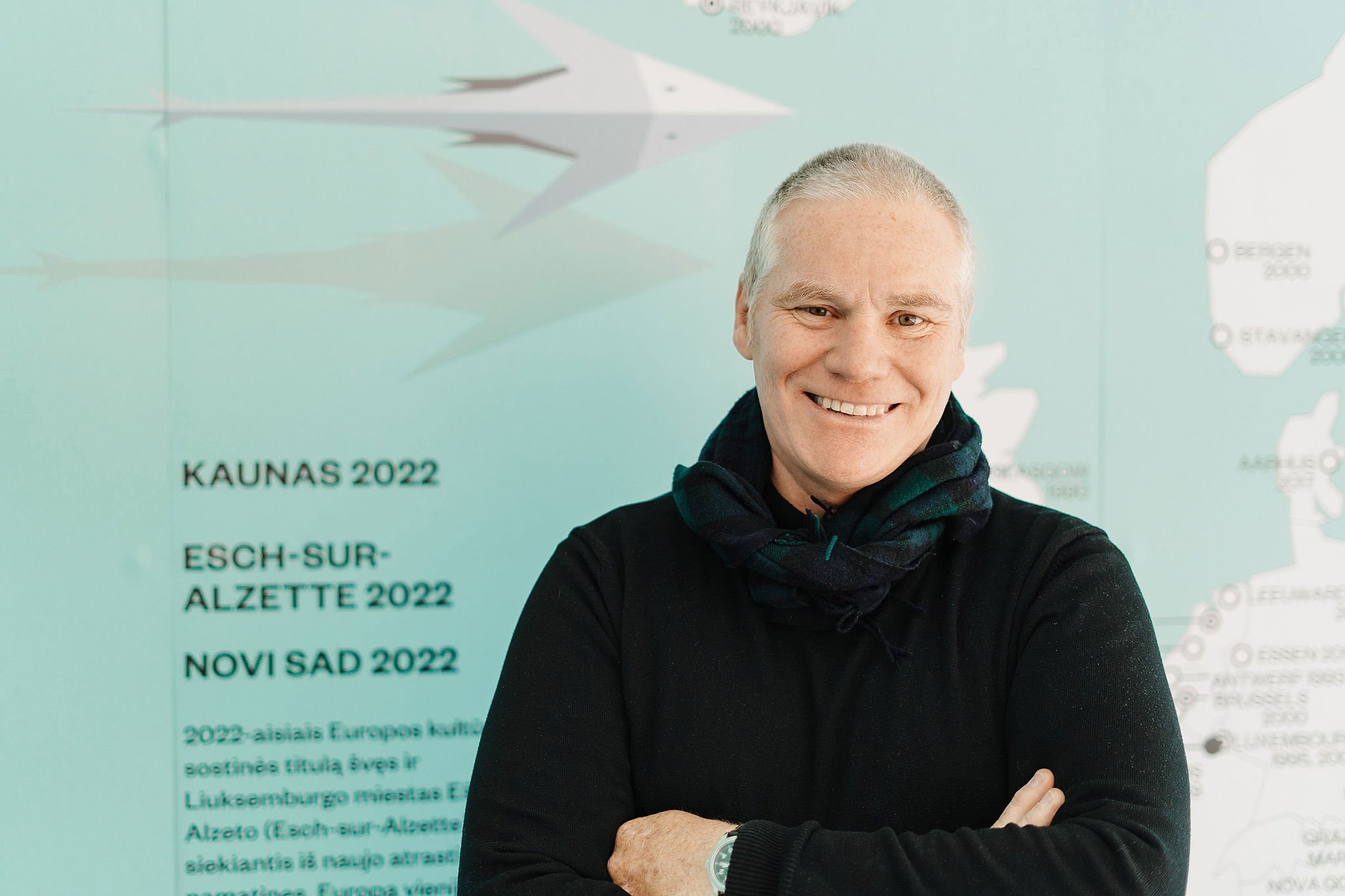 – Would you agree that Kaunas has outgrown itself, its boundaries and stereotypes, during the preparation for 2022? What changes have you noticed while working with the city?
– At the beginning of this conversation, I mentioned that my experience of Spain and Poland led me to see that authoritarianism is not something we accelerate away from but that we need to defend ourselves from – it's a continual task in which culture, education, civic society and institutions all have a role to play. Kaunas 2022 has made an exceptional contribution to that in my opinion. And it is a key feature about ECoC's in general, by the way. They are processes, not simply festival events. But just as festival events are defined not just by the acts on stage but by the audience who takes part, an ECoC is as much defined by the way local people, citizens and the wider community interacts with it and accept the invitation it makes to us all! Come and join in! Co-create with us! Make this your ECoC! That is what breaking down a boundary and stereotype means – to actively help in the process of making new meanings, more useful cultural works, which help us understand this world of ours. Kaunas has changed. It's more fluid, more open, more interconnected within the city and through its understanding of its past. Kaunas is contemporary! It's a European city with deeply European stories to share. And all this, with more work still to be done, will become the legacy of Kaunas 2022. Legacy is so important as will make sense of the investments, imaginative and financial, that have been made so far.  Have you seen how Liverpool 2008 are still talking about their ECoC 22 years later?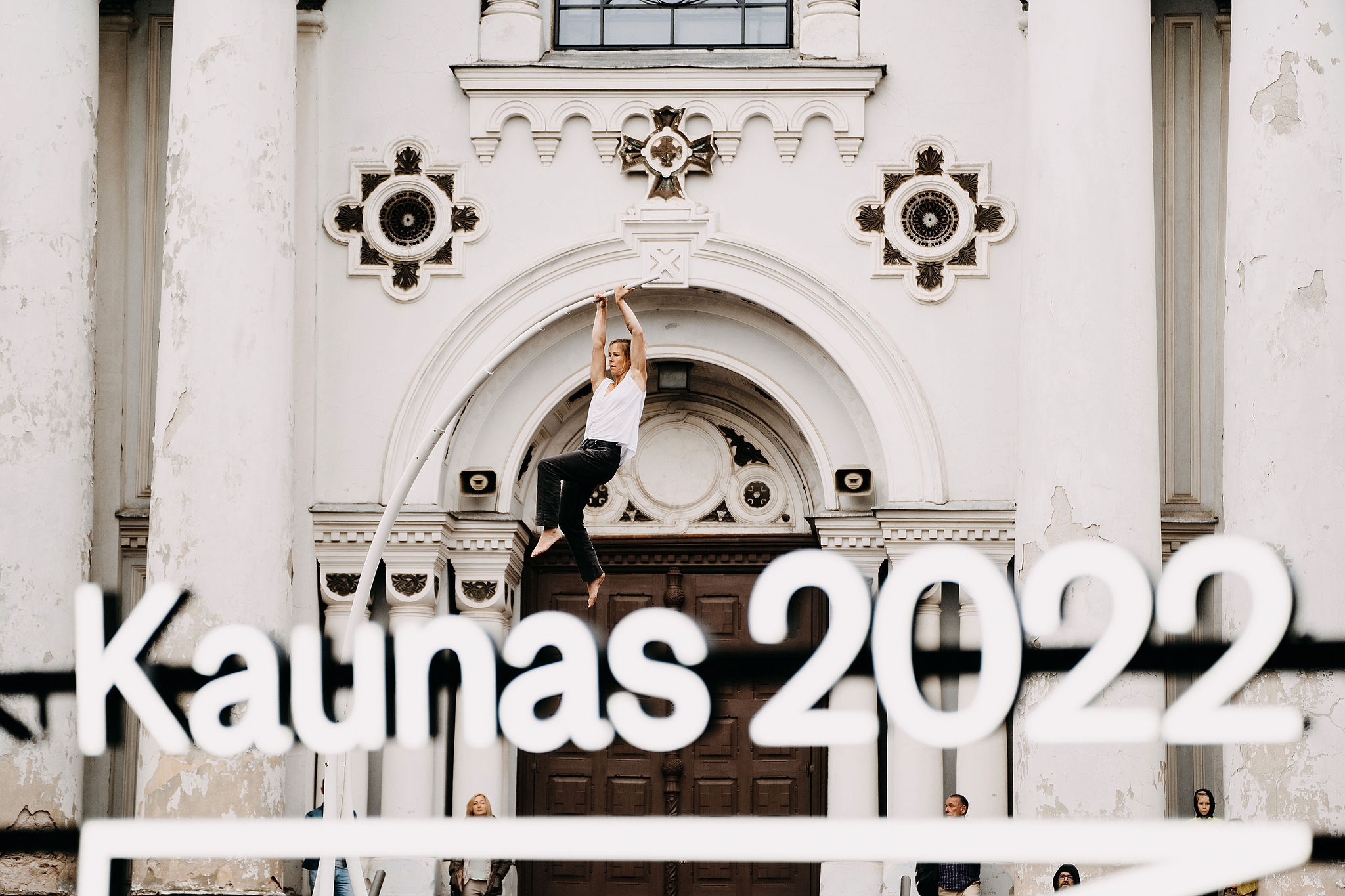 – What is the backbone of the opening event for January? What message do you personally want to stress for the audience?
– The backbone of the event is a myth! The myth of the Beast of Kaunas. The story will be extended over the other big events we are planning for May 2022 and November 2022. It's a moment when we can come together, as a city, as a country, and kick the year off through culture. The Beast of Kaunas of course, like all myths, is not real. It's a beautiful excuse to meet, to reflect and think! The opening weekend is an invitation to everyone. So, the show is the chance to talk together about this city, its past, present and most importantly, its future. And it is the first time in ECoC's history that three cities, Kaunas, Esch and Novi Sad, will hold the title at the same time. What a chance to extend opportunities for audiences, communities and audiences alike to discover new things about one another?

Next year, Kaunas and Kaunas district will become one big European stage and turn the city to a place where you will not escape culture. More than 40 festivals, 60 exhibitions, 250 performing arts events (of which more than 50 are premieres), and over 250 concerts are planned to take place in 2022. It is going to be the year-long non-stop biggest co-creative festival of all. Come co-create and celebrate with us!
Full programme: https://kaunas2022.eu/en/programme/