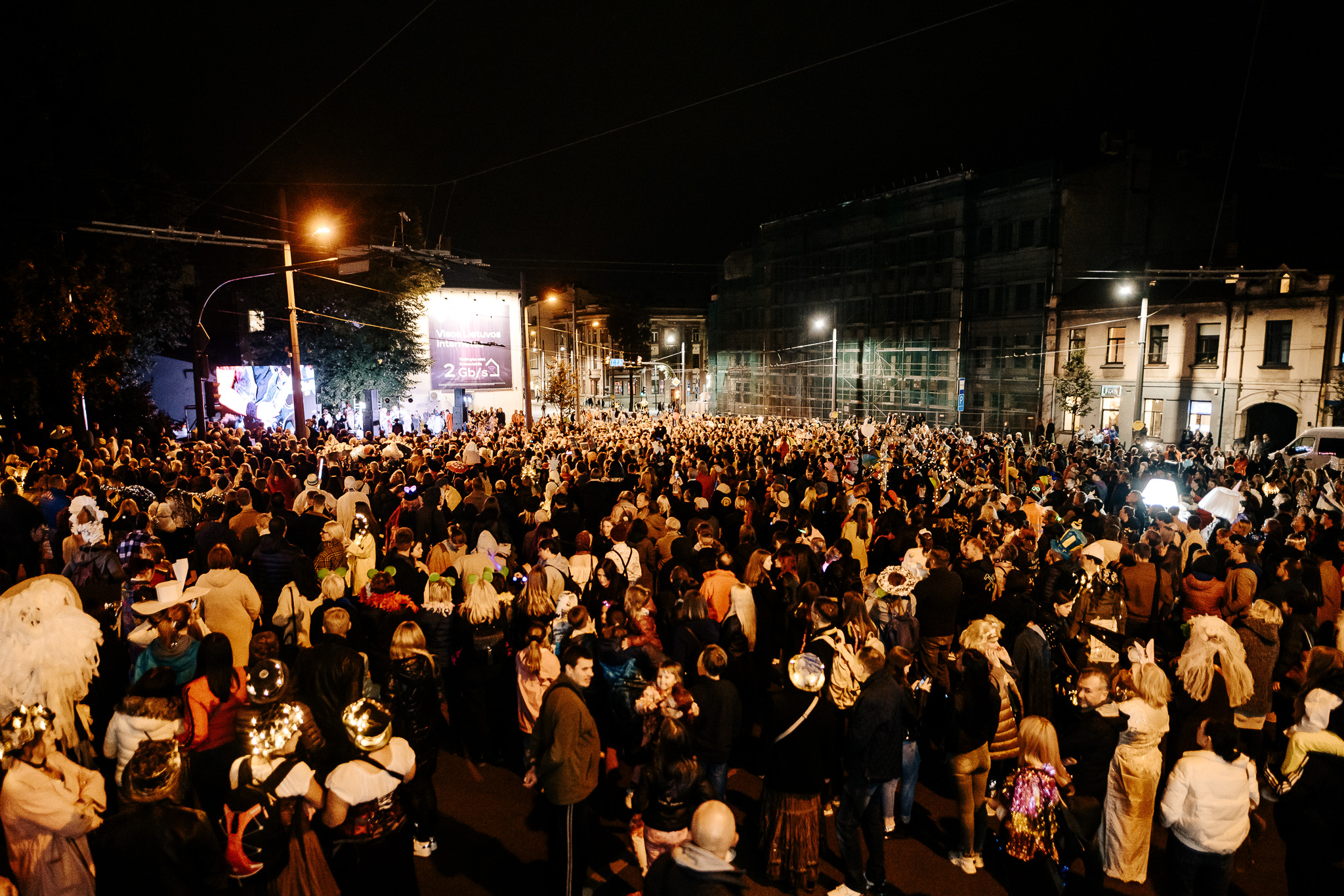 "Kaunas – European Capital of Culture 2022" has already attracted more than 2.4 million spectators and visitors and is not planning to stop any time soon. "Kaunas 2022" organisers keep their promise to continue cultural experiences and ensure – beloved events are returning to the city! Various initiatives will invite you to sit down at the longest neighbours' table in all of Europe, see breathtaking performances, immerse yourself in electronic music or go down the unique route of art objects. We invite you to discover what projects are going to surprise Kaunasians and visitors from all over the world in 2023!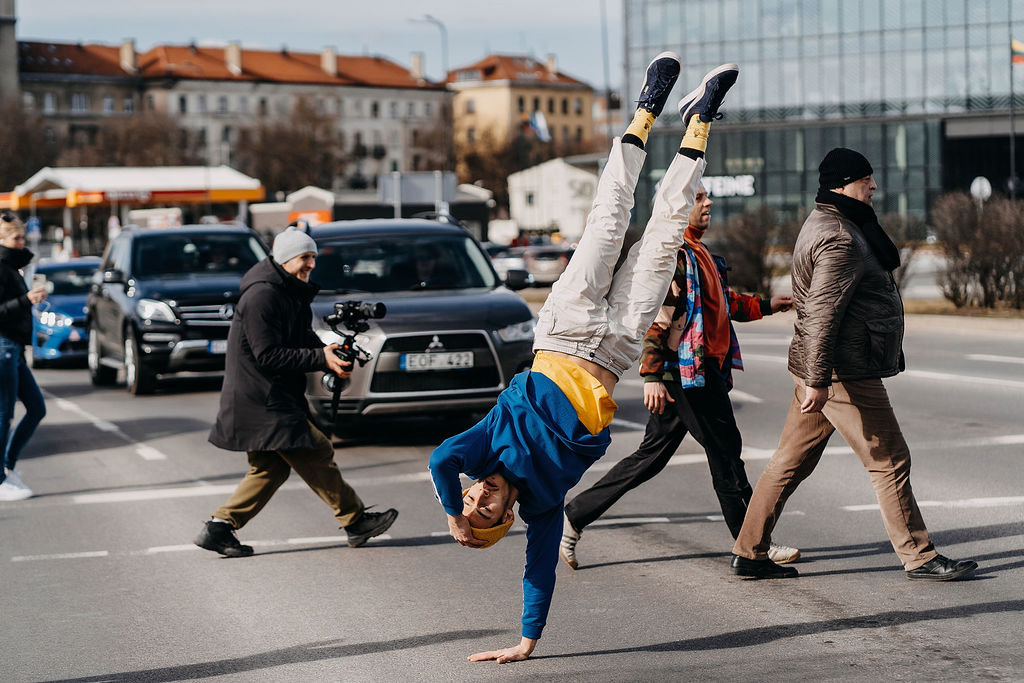 International Day of Happiness
In 2018, the team of "Kaunas and Kaunas District – the European Capital of Culture 2022" has become the ambassadors of the International Day of Happiness in Lithuania. They are convinced that Kaunas is a city of happy people. On March 20, we talk about extremely important topics – happiness accessible to everyone and everywhere, the importance of sustainability and emotional health. This year, communities and artists around the city promise to continue traditions and not only to surprise with numerous events or gatherings but also to turn Kaunas and Kaunas district into a big stage of unforgettable performances once again.
When: March 20 d.
More information is available here.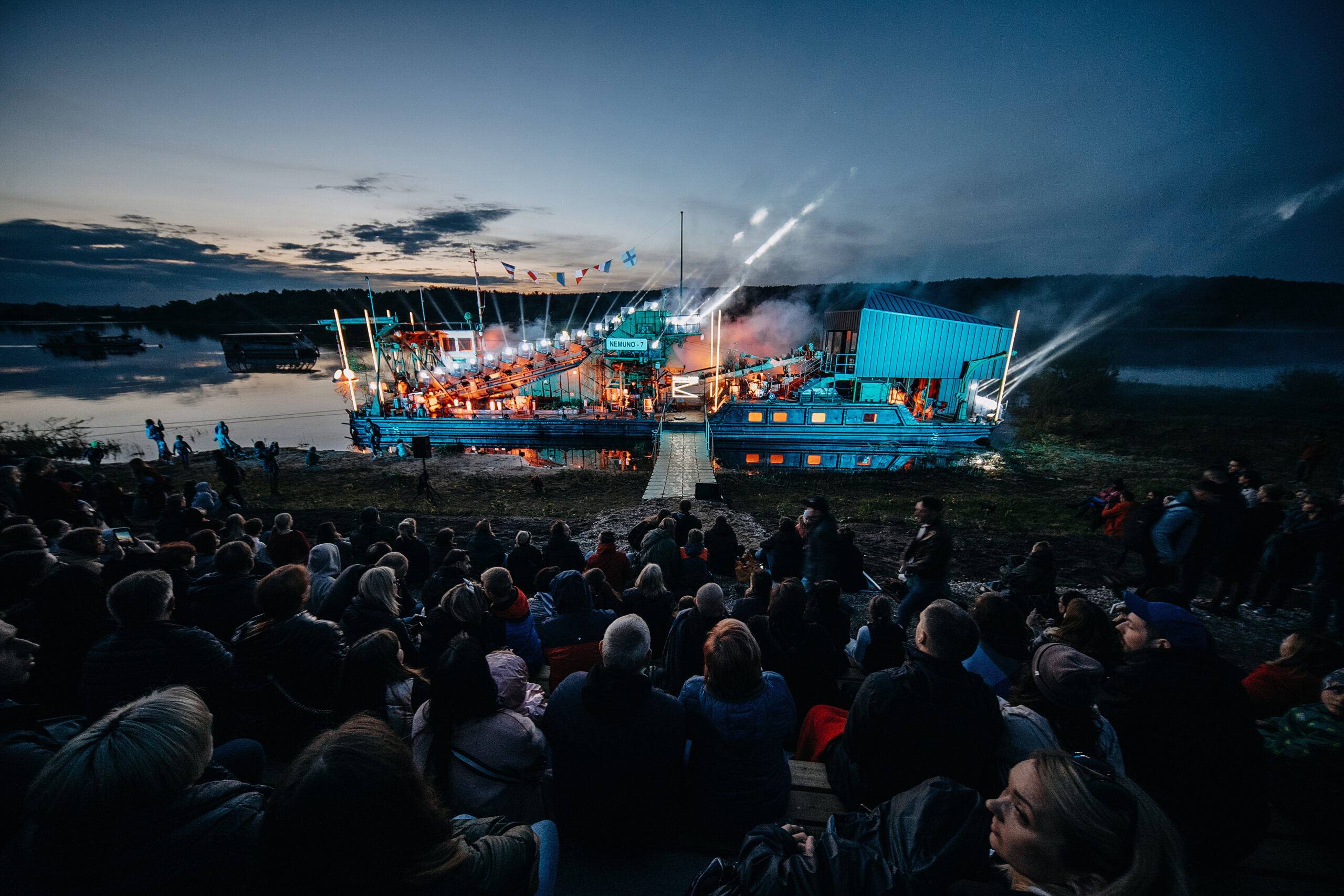 Ship of culture "Nemuno 7" (Zapyškis, Kaunas district)
The dredger "Nemuno 7" opened to the public in the spring of 2022, will continue to enrich the banks of the river Nemunas with cultural initiatives. During the warm season, the unique object of ​​river technology and landscape design will host events, artist residencies and exhibitions. Perhaps, it will become one more reason to bring culture lovers and art enthusiasts to Zapyškis.
When: May-September
More information is available here.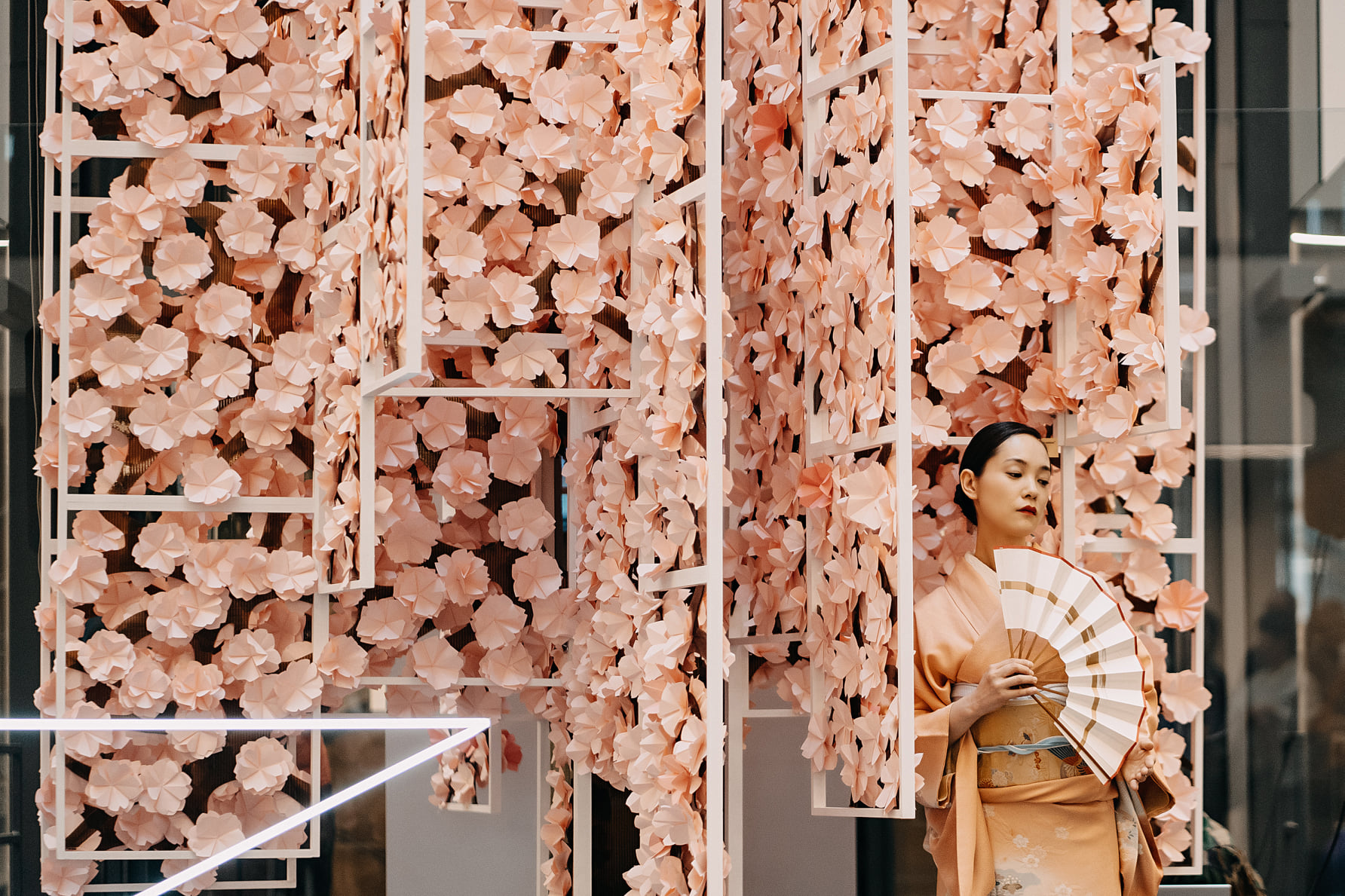 Festival "Japan Days in Kaunas WA"
On May 3-6, "Japan Days WA" returns to Kaunas – more than 10 Japanese artists will invite you to get to know Japan through digital art, modern dance, music, photography, calligraphy, and other art forms. This festival is an opportunity to feel the spirit of the country of the rising sun and to experience the synthesis of traditional and modern Japanese culture.
When: May 3-6
More information is available here.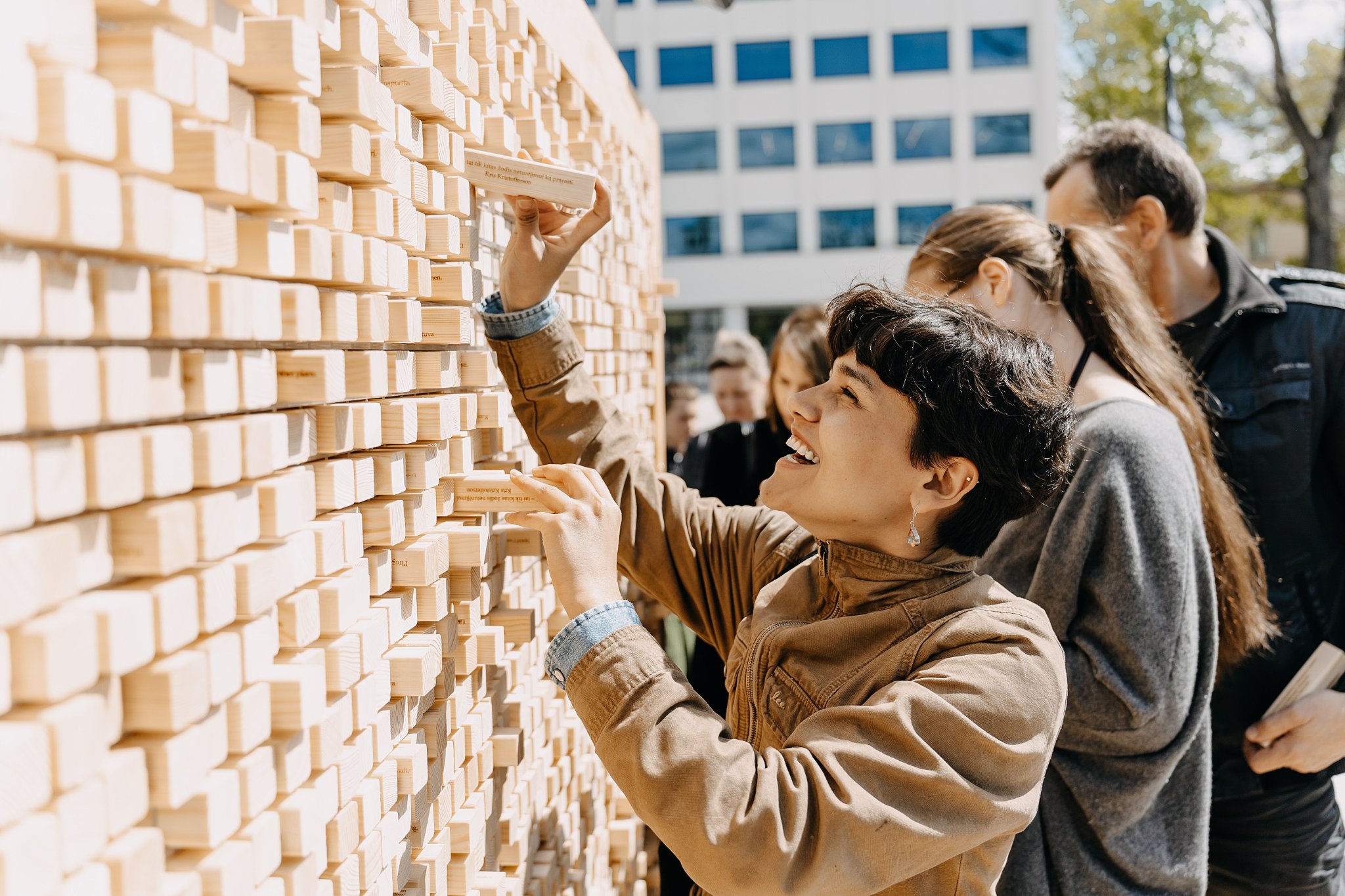 Kaunas Literature Week
Something to wait for book lovers and poetry enthusiasts: "Kaunas Literature Week" returns to Kaunas on May 10-14! Literature evenings, readings, meetings with writers, "blind" dates with a book and many new initiatives will be held all over the city. "We believe that masterful creations, intriguing stories, clever and witty conversations never go out of fashion", claim the organisers already preparing the unforgettable programme.
When: May 10-14
More information is available here.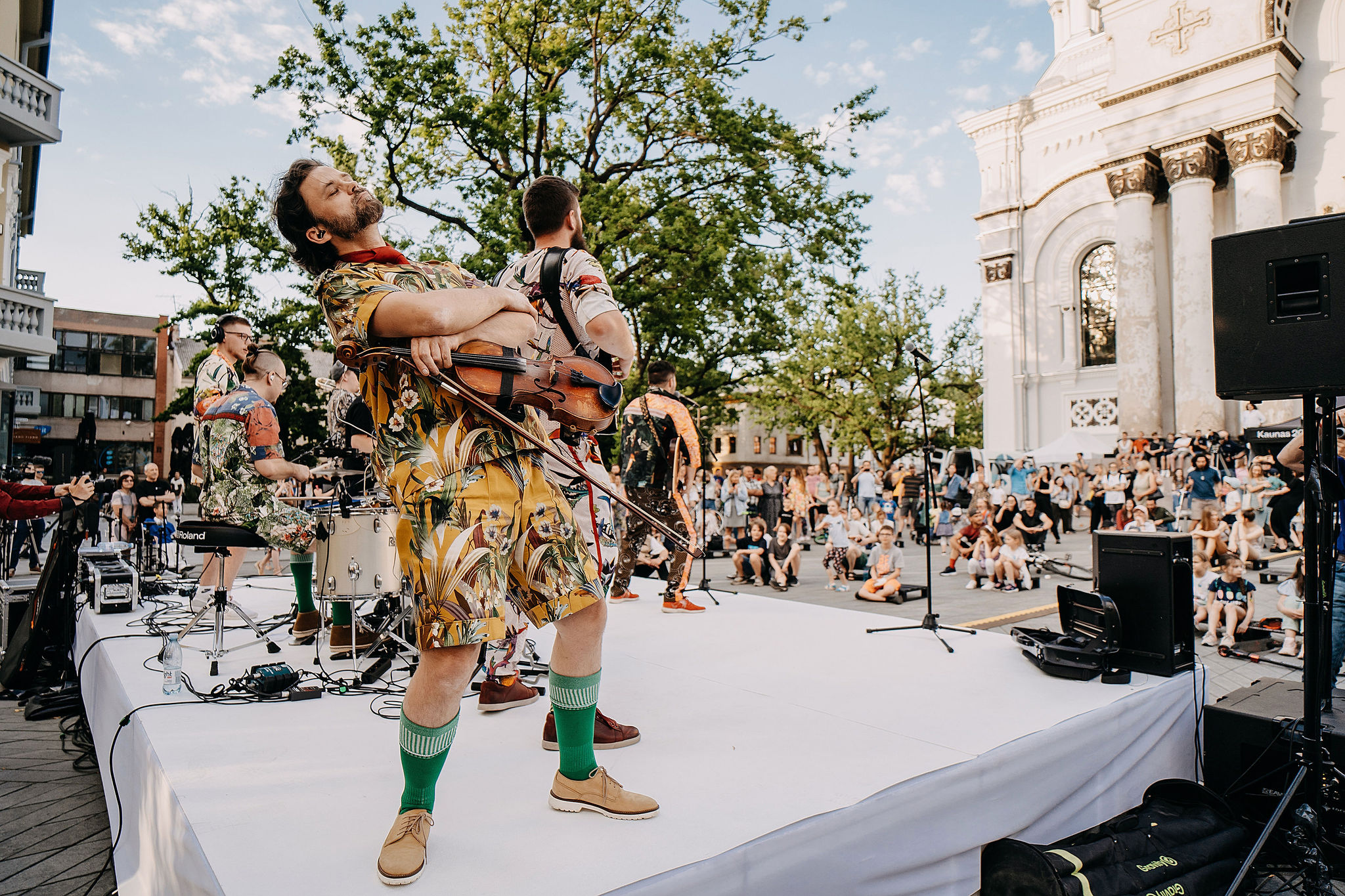 Courtyard Festival
Everyone in Kaunas has heard about the "Courtyard Festival". May 26 Laisvės alley will once again turn into a big courtyard of happy people, while neighbours, friends and relatives will gather around the longest table in Europe. As usual, throughout the evening numerous exciting, surprising, and unexpected events will take place, prepared by the city community and the participants themselves. Kaunasians leave no doubts – the "Courtyard Festival" is a must for everyone willing to feel the true soul of the city.
When: May 26
More information is available here.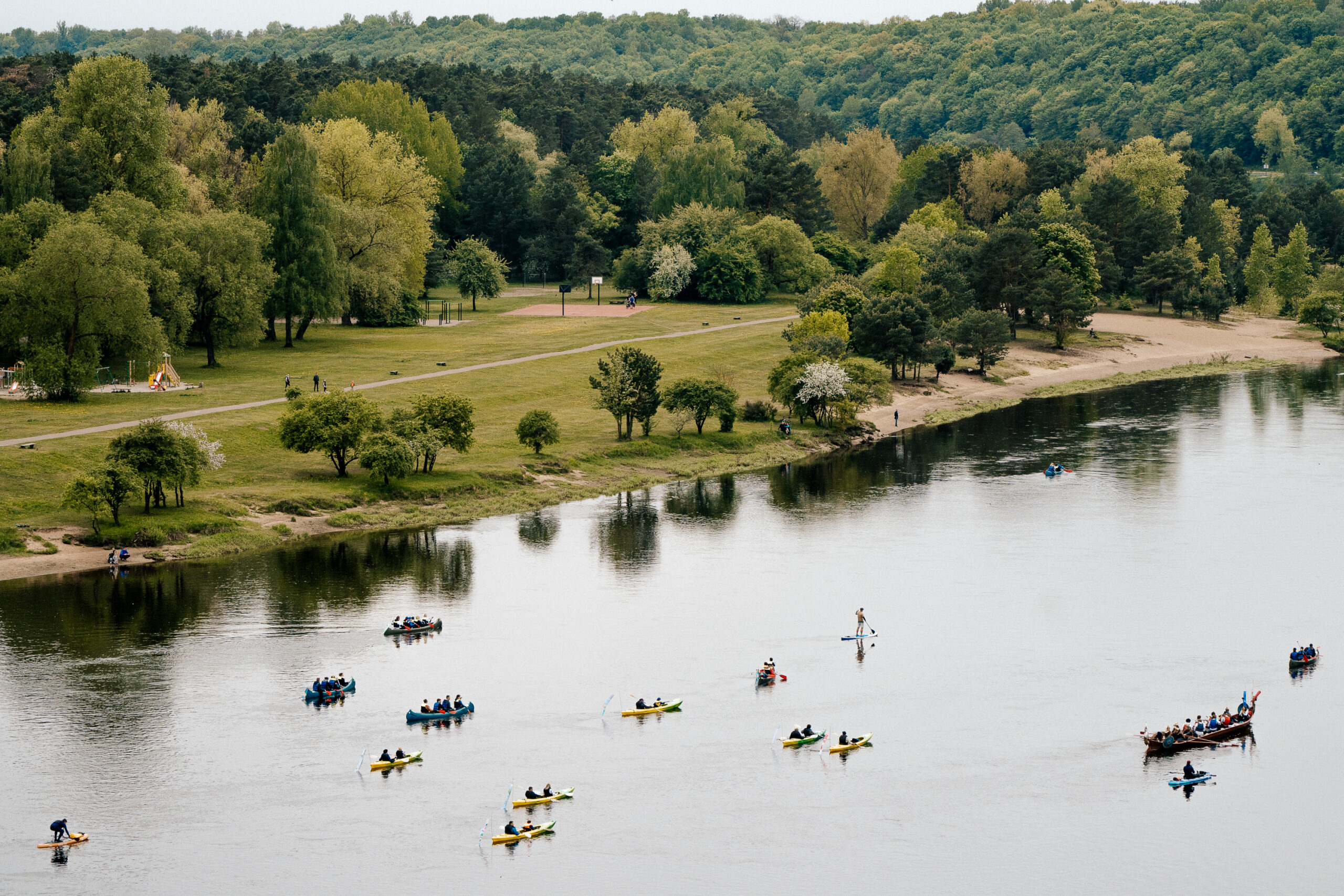 Let's Celebrate the River
"Let's celebrate the river" is an initiative of like-minded people born in Kaunas, which aims to encourage the use of rivers, their waters and coasts for cultural events, community meetings, and the creation of new artistic expressions. Last year, several hundred residents of the city and Kaunas district spent the day travelling down the rivers of Neris and Nemunas, and the same number welcomed them on the shores – with music, songs, or other activities. Good news for those who didn't make it last time: cultural adventures on the rivers await as soon as the weather warms up.
When: May 27
More information is available here.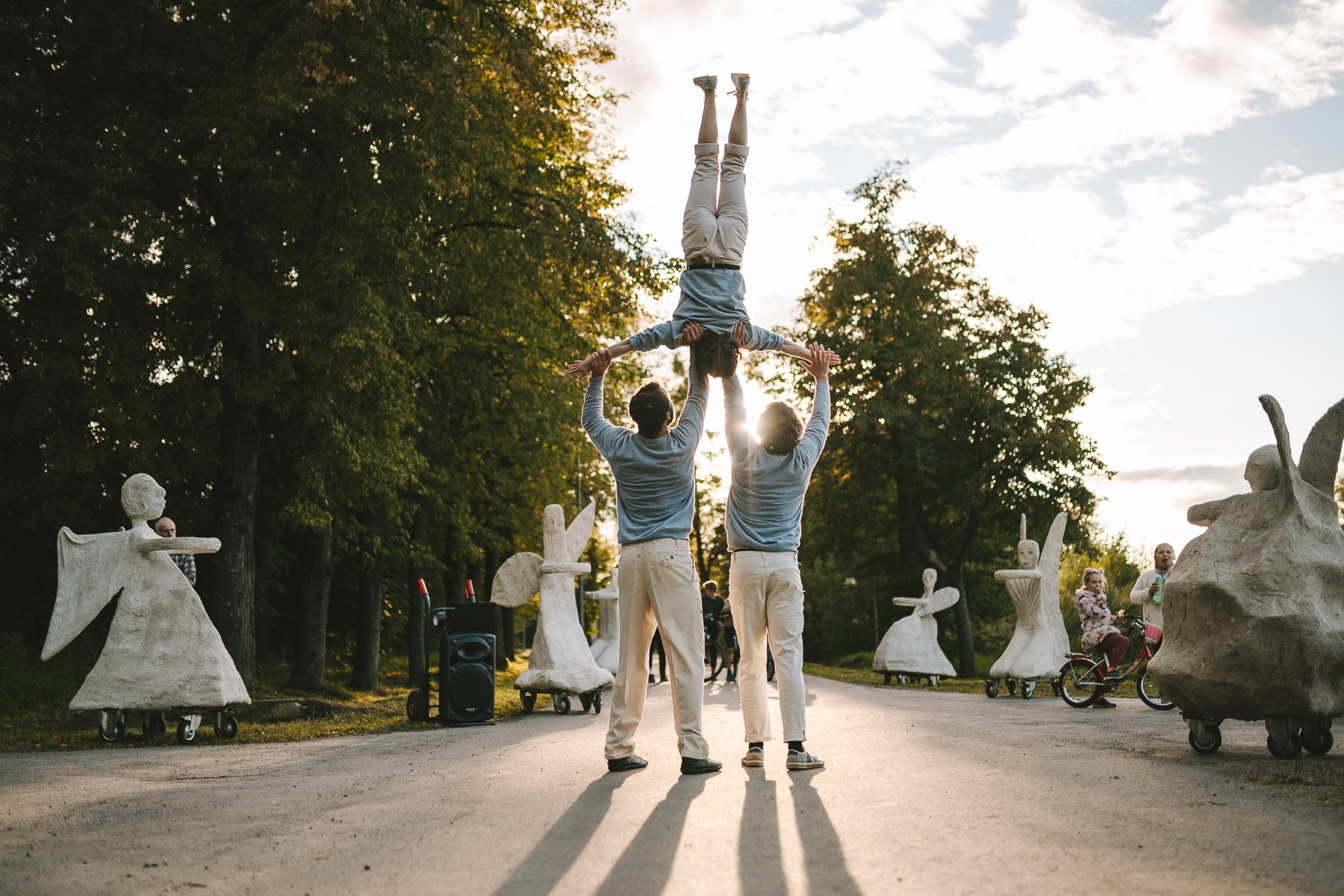 Contemporary neighbourhoods
"Unique one by one, strong together" – this is the motto of participants and organizers of the project Contemporary neighbourhoods. Successfully developed for several years, the project will return even stronger, turning the Kaunas district into a unique stage full of community events. Already in June, the cultural program will spread throughout the neighbourhoods bringing festivals, educational activities, concerts and other initiatives.
When: June-September
More information is available here.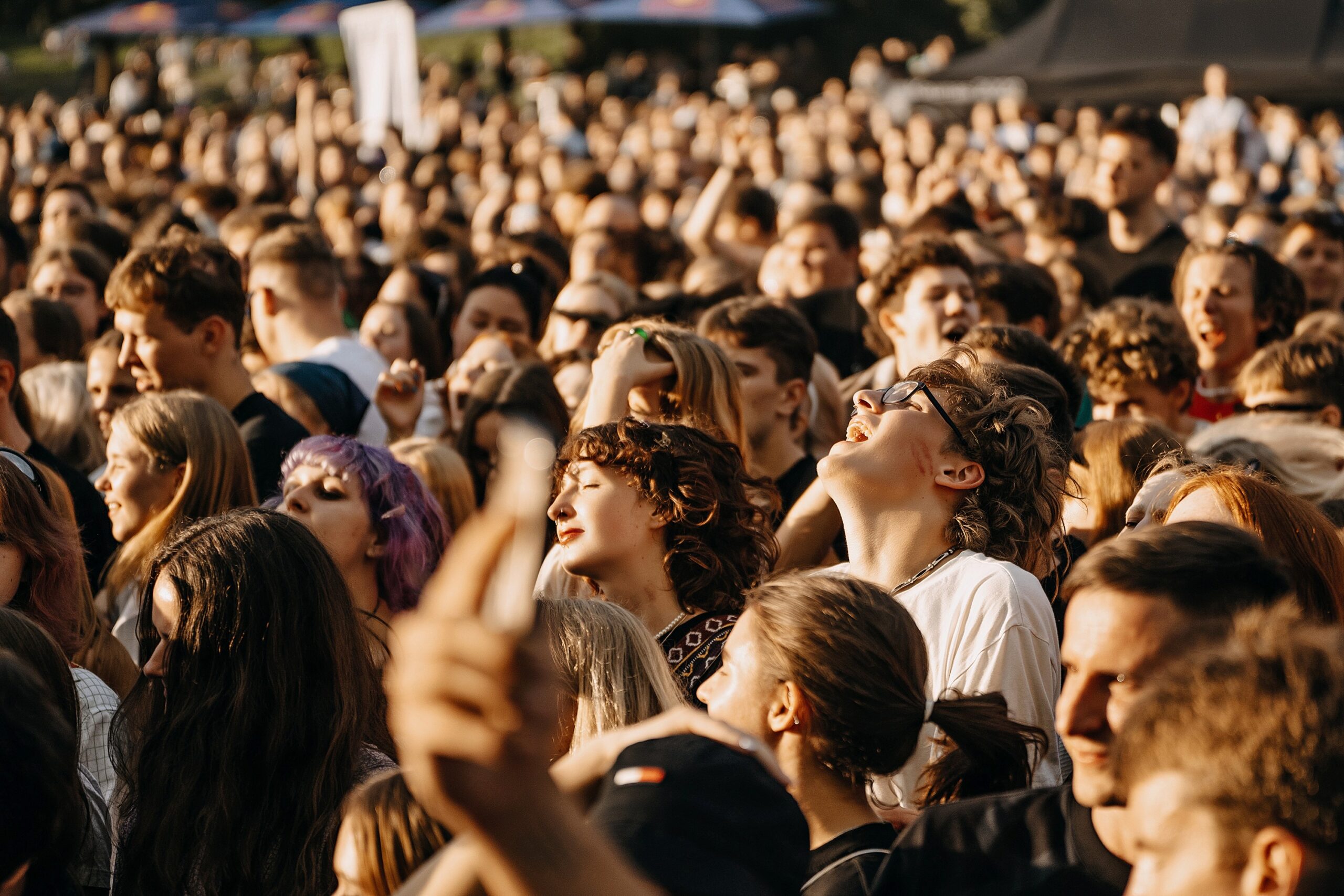 Contemporary City Festival "Audra"
In 2022, the festival "Audra" electrified and flooded not only Kaunas. The festival attracted 60,000 visitors from all over Lithuania and the surrounding European countries. One of the most significant electronic music websites in the world, Resident Advisor, included the event among the best world festivals held in June, 2022. This summer, a new upgraded program that merges electronic music and modern city culture will bring together local and international artists, as well as, various activities, performances, night concerts and much more.
When: June 29-July 2
More information is available here.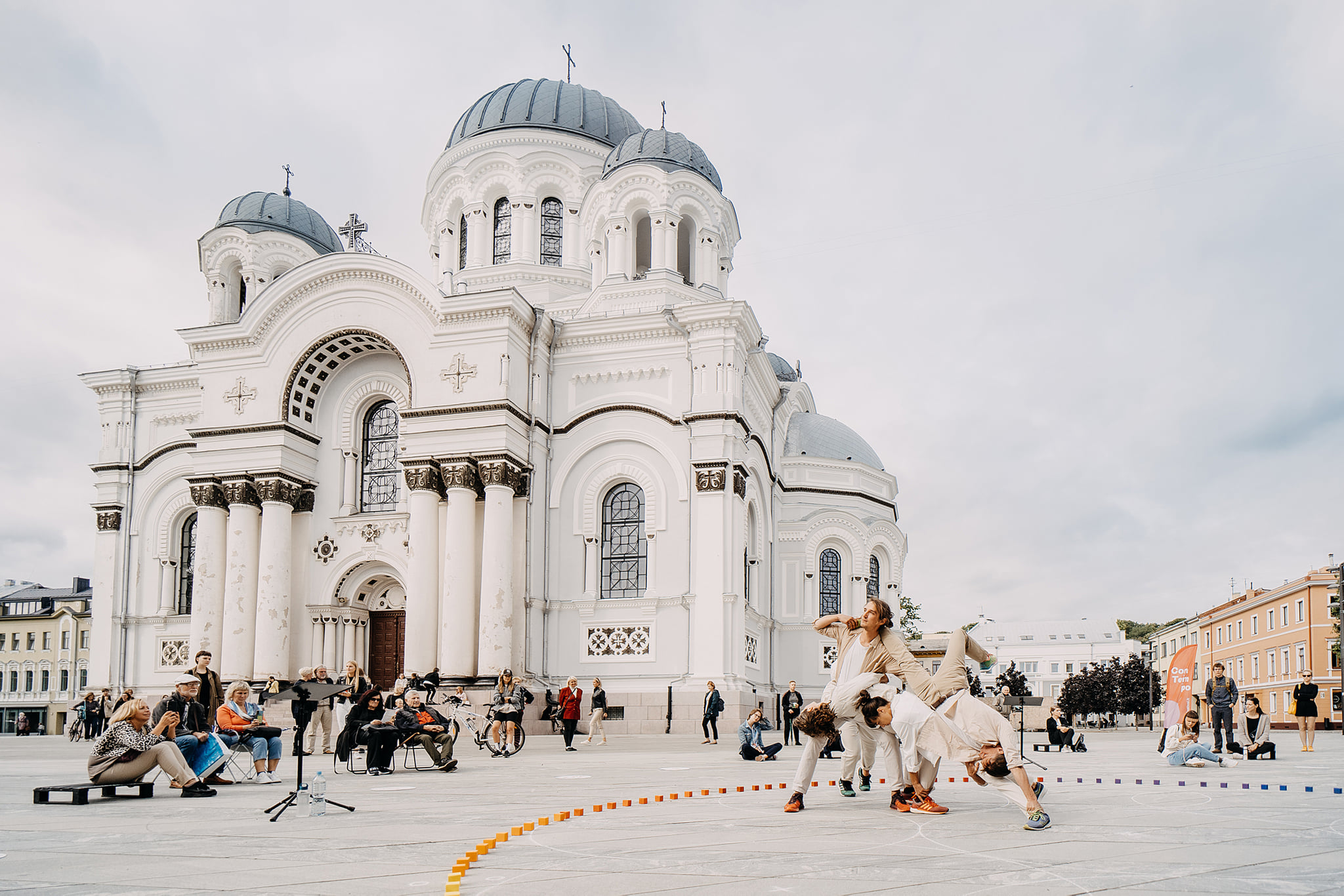 International performing arts festival "ConTempo"
From 2019, "ConTempo" has already established itself among the most anticipated events in Kaunas and Kaunas District. The festival is famous for its performances in the most unusual spaces: in a river, a hangar, an underground parking lot or a forest. This year "ConTempo" festival will once again transform Kaunas into a stage filled with never seen tricks, breathtaking performances, sensitive artistic expressions and meetings with the most interesting artists of Lithuania and the world.
When: August 1-6
More information is available here.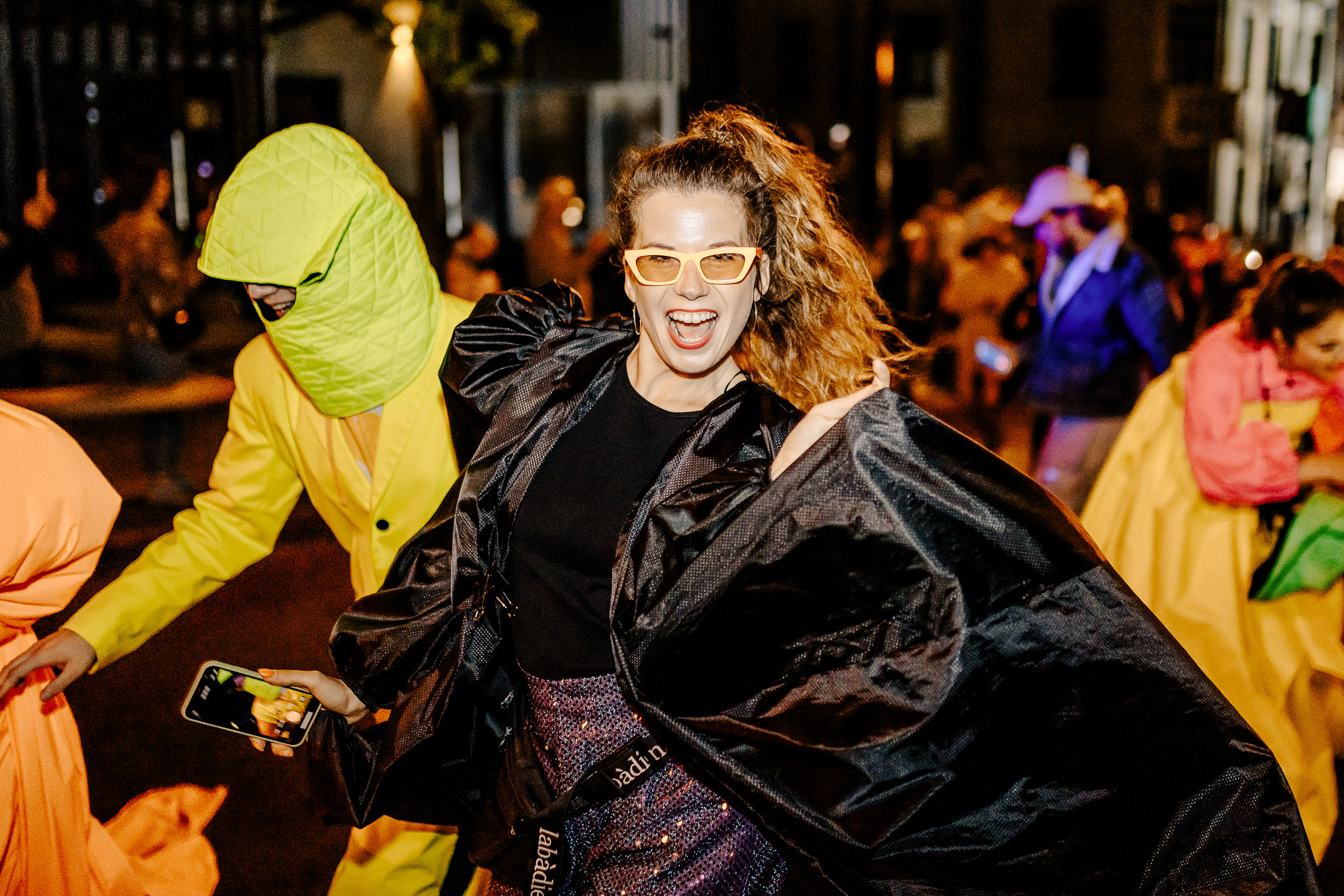 Fluxus festival
Fluxus Festival is one of the greatest successes of the Kaunas 2022 programme. This is a true Kaunas carnival! The main task during this festival is to climb up Parodos Hill in the most unexpected ways and costumes. Original performances by Lithuanian and foreign artists, music and art installations await those who reach the top. During the several years of the festival's existence, we have already seen puppeteers, jugglers, orchestra performances and thousands of crazy ideas – what will surprise us this year?
When: September 9
More information is available here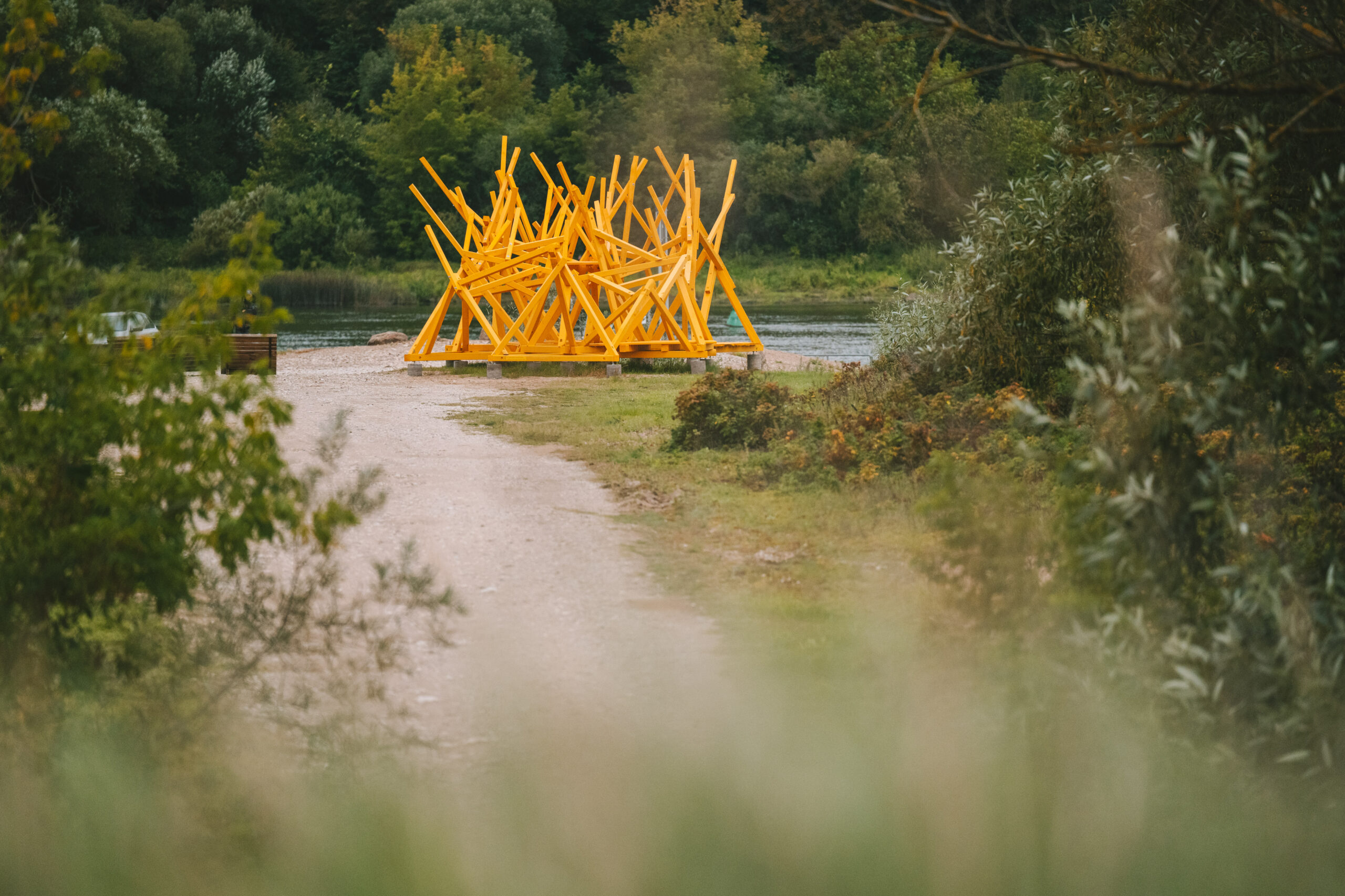 Public art objects route in the Kaunas district: "The Emerald Road"
"The Emerald Road" is a unique route of half a dozen artistic objects, turning Kaunas district into an exclusive open-air gallery. All artistic objects are created in non-traditional spaces and are extremely different: from sculptures, installations, street art works, to old appliances transformed into galleries or gastronomy centres. "The Emerald Road" is open to visitors all year round – maybe it's time to plan a family trip to the Kaunas district soon?
When: all year round
More information is available here.