"Kaunas 2022" logo cannot be used without the written consent of the representatives of the organisation received by email.
"Kaunas 2022" legacy branding guidelines
Throughout the title-holding year of the Capital of Culture, a great many unique projects, festivals, and events were launched in Kaunas. Some have already become integral to the city's identity, while others present opportunities for establishing new traditions in Kaunas and its surrounding region. Our aim is for the city's offer of cultural experiences to continue delighting residents and visitors alike, with the memory of the Capital of Culture titular year enduring long into the future. We consider it important for event attendees to recognize that various initiatives, realized over the past five years, have been created in celebration of one of the most significant cultural achievements in Kaunas's history. We are excited about seeing culture grow and expand in our city, and about the legacy of Kaunas 2022 lasting in a transformed, thriving, and contemporary city.
In various descriptions, press releases, interviews (TV, radio, print), social media, and other communication channels, we acknowledge that a project, a festival, or an event was created during the "Kaunas – European Capital of Culture 2022", or Kaunas 2022, years.
For projects created by Kaunas 2022
For projects co-created together with Kaunas 2022
Kaunas 2022 logo
Vertical version of the static logo
Kaunas 2022 logo
Horizontal version of the static logo
A set of Kaunas 2022 and logos of its patrons
Vertical version of the static logo
A set of Kaunas 2022 and logos of its patrons
Horizontal version of the static logo No.1
A set of Kaunas 2022 and logos its patrons
Horizontal version of the static logo No.2
Kaunas 2022 representative presentational bar
Kaunas 2022 representative presentational bar
For official partners' projects taking place in Kaunas district
Kaunas 2022 in social media
Horizontal

Get in PDF format
Get in AI format
Get in PNG format
Get in PNG format (white)
Get in PNG format for FB (black)
Get in PNG format for FB (white)
Vertical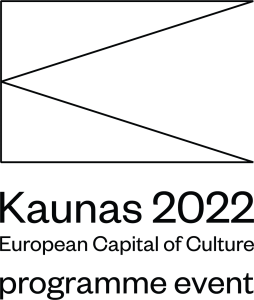 Get in PDF format
Get in AI format
Get a black logo in PNG format
Get a white logo in PNG format
Get in PNG format for FB (black)
Get in PNG format for FB (white)
Long vertical

Get in PDF format
Get in AI format
Get in PNG format
Get in PNG format (white)
Get in PNG format for FB left (black)
Get in PNG format for FB left (white)
Get in PNG format for FB right (black)
Kaunas 2022 logo for image clips
Kaunas 2022 logo for vignette image clips
Download (you will find various vignettes in the folder: black, white, with and withouth the voice over, for Kaunas city and district)
Kaunas 2022 Official partner logo
Vertical version of the static logo for representational purposes
Kaunas 2022 Official partner logo
Horizontal version of the static logo for representational purpose