In September 2022, the premiere of Dorian, based on the work and life of Oscar Wilde and the biography of Francis Bacon, is scheduled in National Kaunas Drama Theatre as part of the Kaunas 2022 program. Directed by Robert Wilson, the play was intended for one actor, but while talking to the American artist right after the casting in Kaunas, the statement became yet another question. One thing is for sure – even though Wilson states he's 'always writing the same novel,' after 55 years in the theatre world, he's still full of surprises.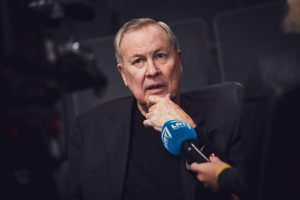 I feel that the theater people in Kaunas are pretty intimidated by you. They respect you and are afraid of you. How do you feel about that?
I'm afraid of myself. [laughs]
I don't know. I think I've always been out of step and a bit different.
I think that today was very strange for these actors to go through what we just went through. It's my way of going about it. I never really know exactly what I'm going to do. I guess I would not be working in the theater if I had studied theater or wanted to do it.
When I first saw theater – I came from Texas, and I had never been to the theater – I strongly disliked it. I didn't like actors. I didn't like all that acting. It was so unnecessary, complicated and I didn't want to be in front of actors trying to express themselves and impose their emotions on me. I'd rather go and be alone in a room. I went to the opera, and I disliked that even more. I'd rather again go to my room and close the door and listen to a recording not to see some singer overacting in front of me. The costumes were ridiculous. The set was ridiculous, and I would rather close my eyes. [laughs]
I guess I made theater because I strongly disliked everything that I was seeing. I didn't plan on a career in the theater. It happened by accident. I wrote a play with a black deaf boy that had never been to school and knew no words. It was seven hours long and silent. I showed part of it in New York. People said that I couldn't show seven hours. It was too long: 'People are not going to understand. They are not going to sit seven hours for something that is silent.'
I went to France and was going to do two performances. Pierre Cardin invited me to show it in the theater. We played Deafman Glance for five and a half months to 2,200 people every night. Charlie Chaplin came to see it twice. My career was established. I didn't know anything about theatre. I didn't even like it. I was asked to go to La Scala, I was asked to go to the Berlin Opera… I always thought, 'Well, I'm going to do another production to pay the rent,' because I really wanted to be a painter. I was not a very good painter. [laughs] For 55 years, I have been working in theater.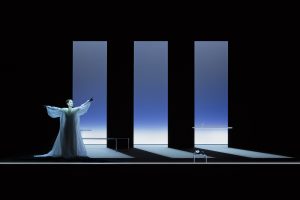 Did you see what you were looking for here in Kaunas?
Well, no, but I would stay very open-minded. I'm doing this play in Germany and the actor there is totally, totally, totally different from these actors. He's unique. 
I wrote Hamlet: A Monologue in 1975 and performed it myself in Paris in 1977. It's now being performed by somebody else in Paris. The first thing I said to the actor doing my role, I said, 'You'll never be able to do what I did.' No one can do what I did, and I don't want anyone to try to do it. He's very short, and I was very tall and skinny at the time. He's a different body type and a completely different actor. One reason I chose him because I knew he was could never be anything like myself. The movements are the same. The light is the same. The stage set is the same, but he is an entirely different person. In Kaunas, we knew from the beginning that we look for somebody different. We don't fall back and try to mold production around what the German actors are doing.
It means that there will be two very different performances in the end.
They will because the people are different. I've from time to time have gone back and revived productions. I made an opera with Philip Glass called Einstein on the Beach. We did it in 1976, and we did the last revival a few years ago. Although everything is the same in terms of movement, stage set, lighting, music but the people are different, so the story is different. The play is different because the people are different.
A play for one performer means a lot of pressure on that single person.
Even tonight, I was talking about doing it with two. I don't know. I'm still open.
Two are still less than 10 or 15. It's lots of pressure but at the same time lots of artistic freedom. Is that right?
Well, the difficulty, if you're alone on stage, is that you don't have a partner. Your partner is the public should always be the public. Anyway, a few years ago, I did a Mary Queen of Scotts with Isabelle Huppert, the French actress. It was first supposed to be done with Nicole Kidman. Then it was Meryl Streep, and there were four or five actors, including Cate Blanchett. They each backed out because they said, 'I need a partner on stage, and it's a monologue for one person,' but Isabelle had no problem. S
You mentioned people like Philip Glass; you've also worked with Lou Reed and Lady Gaga. What do you learn from artists outside the immediate theatrical circle?
Well, Gaga is remarkable. Her talent is so enormous. She's a classical pianist. She plays Mozart. I made 20-something different video portraits of her. For one of them, she stood for 11 hours without moving. 11 hours and she's a popstar. How do you stand there and be interesting for 11 hours without moving? She speaks the text of Marquis de Sade, which I did based on paintings from the Louvre Museum. It's amazing. She speaks like a classical actress. She can bite and speak words. She's about as professional as you can get. She's a hard worker. She does her homework. She's highly intelligent.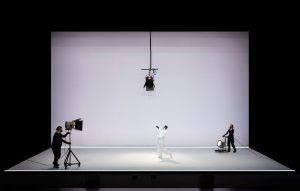 Have you always been a hard worker?
Yes. I'm a slow learner. I was always the worst one in school, the last of my class, but I had to work harder than most other kids. I had a roommate when I was at the University of Texas. He was first in his class, and I was just barely passing. I had to work all the time and do homework. He just breezed through the University of Texas. It was much more difficult for me. As I learned Hamlet, it took me four and a half years. I had to go to bed every night studying. I had to wake up in the morning and study. I had to do it in the shower, walking down the street, on the bus, or wherever. But once I do learn something, the thing just sticks. 
For how long did you carry the idea of Dorian in your head?
Well, it's been three or four years. I started with the idea that two was one. Even though it was a monologue, it was always about two characters as one. You have two hands, the left hand, and the right hand, but it's one body. The left side of the brain and the right side of the brain, but it's one mind. We think one plus one is two, but actually, two can be one. Heaven and hell are one world, not two. 
You first worked with the writer Darryl Pinckney more than three decades ago, and there has been a handful of successful collaborations ever since. Was he an obvious choice for Dorian as well?
One thing I've always found so boring in theater is that it's like ping pong. 'Hello, how are you? What's your name? You have beautiful blonde hair.' 'My name is Bob.' 'What did you do last night?' 'I drank a lot of vodka.' 'Are you hungover today?' I hate that in the theatre. Darryl just writes a body of words so that you don't have a ping pong situation. He's a very elegant man with language and words. I wonder how it's going to be translated here. Anyway, we won't have a ping pong situation, even if I put two people on stage now, which I'm considering, but it would not be 'Hello, how are you?' 'I'm okay.'
Who decided or had the idea to incorporate the biography of Francis Bacon into the story?
It was more Darryl. We started listening to Peggy Lee singing The Alley Cat Song. Peggy Lee is very cool and hot at the same time. Irony. So, I was thinking about an alley cat. That was really how we started Dorian. Then, by accident, we found this parallel between Francis Bacon. This guy broke into his studio in London, and instead of calling the police, Bacon painted his portrait, and they became lovers. It was, in some ways, a very odd, strange parallel with Oscar Wilde. 
Is Dorian going to be the classical work by Wilson?
Marcel Proust said, 'I'm always writing the same novel.' They asked Albert Einstein once he said, "Mr. Einstein, can you repeat what you just said?" He said, "No, there's no reason for me to repeat what I just said because it's all the same thought."
I wake up, and that's what I do. It's not like I can go to an office, work, and then I go home and watch TV and scratch the dog, and I think my work is a way of living. It's life. I never think about it being work. It's just what I do.
Next year, Kaunas and Kaunas district will become one big European stage and turn the city to a place where you will not escape culture. More than 40 festivals, 60 exhibitions, 250 performing arts events (of which more than 50 are premieres), and over 250 concerts are planned to take place in 2022. It is going to be the year-long non-stop biggest co-creative festival of all. Come co-create and celebrate with us!
 Full programme: https://kaunas2022.eu/en/programme/
[embedyt] https://www.youtube.com/watch?v=MYyrTPiAczo[/embedyt]