Audience Development Programme for Kaunas 2022 Towards audience development strategy. Supporting Kaunas 2022 key partners.
If you have received this invitation that means that you are one of them: your organisation is conducting one of the key projects of ECoC Kaunas 2022. Therefore you can apply to participate in the Programme.
This year's Audience Development Programme is created with one main goal: to support ECOCs partners in their efforts in audience development planning. Beyond 2022.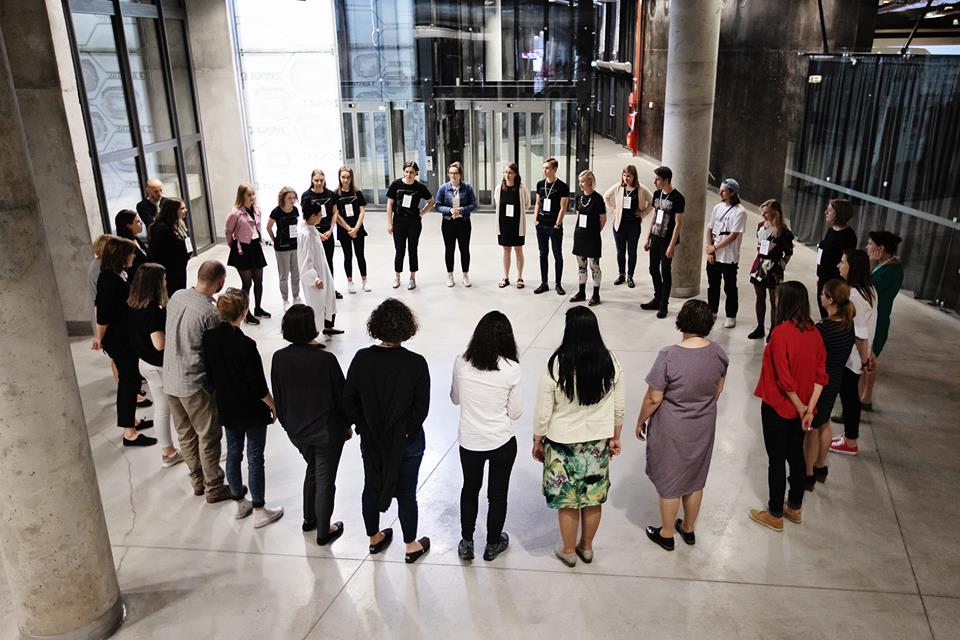 Audience Development Programme for Kaunas 2022 is a space to exchange, learn, experiment, test out new tools and different approaches. It is about melting culture professionals of different backgrounds, experiences, supporting and strengthening each other in the audience development and audiences engagement journeys.
It seems necessary considering "all is wrong with the world" right now and very fast approaching the ECoC year…
Therefore, a large part of it will be based on co-creation and the end result very much depends on our joint effort. In other words: we've designed the frame, together with you we are going to fill it in with the substance to best respond to your actual needs.
How is it going to work? > Programme's frame:
FOCUS: individualised approach and 1on1 support
From the very beginning it will be all about YOU and your specific needs. As soon as we welcome you into the programme you will get your mentor to guide you and support you throughout this process.
You will have a chance to express your dilemmas and problems, needs and wants. We'll analyze them and propose specific workshops' themes/invite experts in various subjects.
FUEL: series of workshops to equip you with the specific knowledge, skills and tools to help you reach your audience goals and give you fuel for creating your own audience development plan and test out different actions.
It can be anything: strategizing, budgeting, audience segmentation, audience research, engagement, inclusion, co-creation, participatory programming, community engagement, PR and campaigning, marketing tools for audience development… The workshops' menu will be constructed depending on your needs.
FRIENDS: a very important part of the frame of the programme is cooperation between participants – local cultural professionals (=all of you): supporting each other and sharing your expertise. We will facilitate smaller, sub-working thematic groups based on your needs and interests. They will run according to the PEER-TO-PEER collaboration principles with the support of relevant experts.
We will also dedicate some time to work together as a group.
FUTURE: the final result of your participation in this program should be your own audience development plan going beyond 2022 and we truly hope that the whole process of creating it will be not only rewarding but also…
FUN! You will have a chance to explore different approaches in working with audiences, develop and test various tools and methods, learn while doing, with the help of others but also while helping others in their endeavours.
PRACTICALITIES
Time & effort
The minimum is participation in programmes activities. We can guarantee that we are not going to take more than 6h during the month. The rest is up to you! Just remember that it is not only about listening but actually participating.
Platform & methods of work
Most of the activities will happen on-line. Depending on the situation, there are options to conduct some of the activities live in Kaunas.
What & when
Applying: First step is applying for participation in the programme. We will select only 10 organizations/institutions but each should apply with two participants.
> DEADLINE: 14th of May
> Information about results: 18th of May
IMPORTANT! You are representing your organisation so you need a "green light" and you are applying in pairs – two people per organisation/institution. So team-up before filling-in the form!
KICK-OFF MEETING
Opening lecture, meet-up with all participants and mentors, presenting and discussing the programme in detail.
> 24th of May
1on1
Meeting with mentors to diagnose needs, hopes, aims.
FINAL SHAPE and GO!
Based on careful analysis of 1on1 meetings filling-in the frame of the programme with the substance: proposal of workshops' subjects, names of experts and themes for peer-to-peer groups.
> min. one workshop every month
> depending on the month > peer-to-peer meetings, meetings with mentors/experts, designing and testing tools, working towards AD plan.
We are starting now and will continue until the end of the year. Don't worry it is not going to be neither super-intensive nor time consuming (unless you want it to be…;))
Interested? Apply! Here is the link: https://forms.gle/jabDL6fzDYKE9CjQ7
Curious but need more info? Contact partnerystes@kaunas2022.eu